---
Posted by Julia Nachman on
While I obviously think Sustainimals are the perfect gift for just about anyone on your list, I suppose I can imagine that there are some people (like maybe someone who already has a Sustainimal?) on your list for whom you might want to get something else.
---
Posted by Julia Nachman on
We all know that the most sustainable clothing option is to keep wearing what we have. However, sometimes you need something new. The tendency for a lot of us is to throw a bunch of stuff that we no longer wear into a garbage bag and haul it off to the Salvation Army or Goodwill, and then head off to the mall. But what if donating used clothes is not all that its cracked up to be? And what if the way we have all been taught to donate clothing is not only unhelpful, but in some cases actually harmful and counterproductive? This blog discusses major apparel brands that offer clothing recycling options where the clothing is... actually recycled.
---
Posted by Julia Nachman on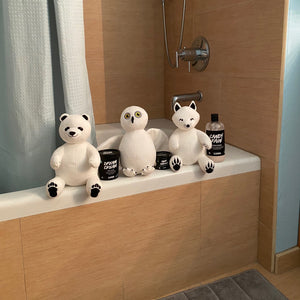 Do you ever feel overwhelmed when you think about what it would take to lead an eco-friendly lifestyle? We are here to offer you a few easy tips to find products for personal care or for the home that either don't have packaging at all, or use closed-loop packaging.